Murdy PTA's Annual "Trunk-or-Treat" is almost here! Please come on Friday, October 27th at 5:00pm for games, trick-or-treating, food, and fun! To make this event successful, we need parent volunteers who are willing to decorate their car trunks with…
Principal's Message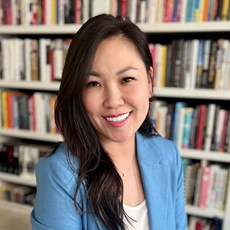 Dear Families and Scholars,
On behalf of the teachers, staff, and administrative team, I would like to welcome each of you to the Murdy Elementary school community as we embark on the 2023-2024 school year! My name is Dr. Michele Luong and I am proud to be the principal of John Murdy Elementary alongside your assistant principal, Mr. Thao To.  
Murdy has earned a reputation for academic excellence through our various programs on campus. 2023-24 marks the 7th year of our Vietnamese Dual Immersion Program, which now includes students in TK - 5th grade, as well as the 8th year of our Gifted and Talented Education (GATE) Program. In addition to academic excellence, our school also takes pride in developing the personal skills necessary for students to achieve those academic and social goals.
All of our school's successes are not possible without the hard work and commitment of our students, teachers, parents, and staff. I look forward to the continued partnership as we work together to ensure that every child becomes a life-long learner and reaches their academic potential through enriching curriculum, engaging hands-on activities, and inspiring teachers and staff.
It is an honor and a privilege to serve the Murdy Elementary school community and I look forward to working with you to continue our tradition of excellence. 
If I can be of assistance, please do not hesitate to contact me.  
Sincerely,
Michele Luong, Ed.D.
Principal, Murdy Elementary
Our School
The teachers and staff at John Murdy Elementary are hardworking and dedicated to providing our students with high quality learning experiences and preparing them for future success. We are proud to offer an on-site GATE (Gifted and Talented Education) Program and our district's first Vietnamese Dual Language Program.
We have a strong commitment to STE(A)M, and recognize the importance of getting technology into the hands of our students.  All our students participate in Hour of CODE and many elect to participate in robotics. The last three years, we partnered with a local high school to bring an art teacher to Murdy to provide lessons after school.
Other Opportunities for Murdy Scholars:
After school STEAM Enrichment (Coding, Robotics)
Before & After School Intervention/Support
On-Site GATE Program
After School Art Programs
District & County Art Festivals
Honor's Orchestra
Honors Chorus
Cultural Celebrations
The Gratitude Project
Community Service Opportunities
On-site Boys and Girls After School Program